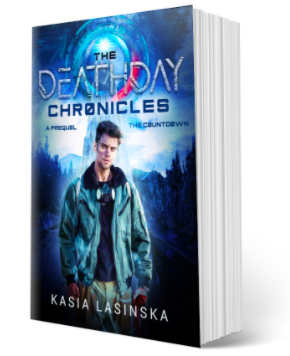 Title:
The Countdown: The Deathday Chronicles: A Prequel
Series:
The Deathday Chronicles #

1
Published by:
Dreamscape Press
Release Date:
30 October 2020
Contributors:
Kasia Lasinska
Genre:
Dystopian
,
Young Adult
ASIN:
B07YRXK6DH
Add on Goodreads
In the Grand Alliance of American States... Your days are numbered.
I'm Theo, and my deathday is in ten days.
The vivid, poison-green digits burning into my left wrist won't let me forget it.
I brave my remaining days with my best friend by my side — if only I could bring myself to finally kiss her.
But when I receive a mysterious parting gift from the Government, I'm thrown into a wild hunt for a clue that could explain deathdays. Or stop them.
With time running out, every choice I make could be my last…
The Countdown is the addictive full-length prequel to the young adult dystopian series The Deathday Chronicles. Full of action, adventure, romance and heroes in unexpected places, it's perfect for fans of The Hunger Games, Divergent and Everless. ★★★★★
The countdown is on.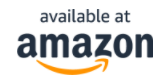 Testimonials
This is a fantastic introduction for a brand new YA/NA post-apocalyptic world. This felt very much like Maze Runner and Hunger Games and I am here for it! ★★★★★

I absolutely LOVED this book! [...] I rate this book 5/5 stars. It's definitely one of the best dystopian novels I've read, and I absolutely cannot wait until the next book comes out! Count me as an instant fan! ★★★★★

"Incredible. This book is remarkably well written and engaging, and will take you on an emotional roller coaster ride. I felt sad for the first half of the book, with the concept of upcoming death days, however, that sadness turned to curiosity, which turned to suspense, and coupled with the amazing storytelling, this became one I just couldn't put down. Looking forward to the [rest] of the series!"

"Love it!! Compelling, mysterious! Excellent world building... it reminded me of Divergent." ★★★★★

This prequel was so amazing I can't wait to find out what happens in the next book! I fell in love with the character of Theo from the start [...] There is action, suspense and emotion on every page, which is exactly what I'm looking for in any fictional story - and this one I really recommend. ★★★★★

Theo's story is gripping, emotional and full of action, which made me read the whole book in almost one sitting - with one lunch break! As a fan of The Hunger Games and Divergent, I highly recommend the book to fans of dystopian and romantic stories. ★★★★★
As an Amazon Associate, I earn from qualifying purchases at no additional cost to you.
---