Hey there my gems ?
I'm SO excited to announce that The Hacker, the newest story in The Deathday Chronicles universe, is now live! I had so much fun writing this one.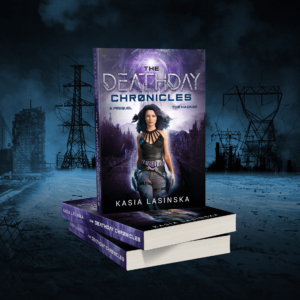 Emmeline 'Em' Vega is a feisty heroine who won't take 'no' for an answer. She's one of my absolute favorite characters in the series, so I just had to give her a story of her own! This is the first time I'm sharing her voice.
The Hacker takes place three months after the events of The Countdown. If you've read The Countdown, you'll be pleased to hear that some of your favorite (and not so favorite) characters will reprise their roles ?
Here's a snippet from The Hacker, featuring a character who's a reader favorite from The Countdown. Any guesses who? ?
A sudden movement in the evergreen bushes to my left was all it took for my instincts to kick in. I didn't hesitate. I leapt up and over a fallen log, kicked back off its trunk and landed squarely behind my stalker, putting my knife to his throat.
The boy's muscles tensed beneath my arm. He was much bigger than me, but I held fast.
"Drop the gun," I hissed in his ear.
"Whoa, whoa, whoa. All right… easy there." The boy raised the hand carrying the gun up and away from his body, then lowered himself and dropped it to the ground. It clinked against the frozen earth.
"Who are you?" I demanded, keeping my knife firmly in place.
"I'm Ian. Who are you?"
"I'm the one asking the questions here. Are you a Patrol?"
Ian snorted. "Do I look like one?"
"You've got the gun."
"Yeah, I do. It's a long story."
"Why are you going past the Edge?"
Ian turned slightly, and I tightened my grip on the knife. "Why are you?"
"I said, I'm the one asking the questions."
"All right, all right. But do you mind? This is kind of uncomfortable." He pointed to my knife.
After a moment's hesitation, I relaxed my grip and withdrew the knife.
Ian rubbed his neck, a grin playing on his lips. "Phew, that was close."
"Watch it." I pointed the knife at him again. Our eyes locked for a moment, and I quickly looked away, fighting my blush. He was handsome up close, but this wasn't the time to lose my focus.
What do you think? Here's the description:
Everyone has secrets, but mine could get me killed.
I'm Em, and my deathday was yesterday.
At least, that's what the Government thinks.
The digits on my wrist may not have killed me, but they've put a target on my back.
Now, a fugitive in my own city, I need to figure out how I lived past my deathday. And why I was the only one…
It's not just about finding answers. It's about survival.
One thing is certain: I'm out of my depth. Even my hacking skills might not be enough to get me out of this one…
Full of action, intrigue, and a heroine who doesn't take 'no' for an answer, The Hacker is the addictive companion novella to The Deathday Chronicles, the young adult dystopian series that's perfect for fans of The Hunger Games, Divergent and Legend.
If you do give The Hacker a chance, I hope you'll enjoy it! You can grab a free copy from my website:
https://kasialasinska.com/free-book
Happy reading! ??
Love always,
P.S. As an Amazon Associate, I earn a small amount from qualifying purchases at no cost to you.
---