Hello my gems!
I hope you're well on this frosty winter morning. I'm so excited to be taking part in YA Sci-Fi & Fantasy Addict's 12 Bookish Days of Christmas Blog Hop! Each stop on the hop has a fun bookish freebie & a chance to enter our HUGE giveaway (nearly $800 worth of bookish prizes!) Read on for your very own bookish Christmas reading playlist!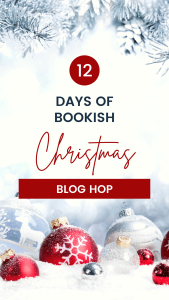 Day 1 – YA Christmas Reads + Sweets
Day 1 Bonus – Hosting a Secret Santa Gift Exchange with Your Bookish Friends
Day 2 – Gift Ideas for Friends who Read
Day 3 –  Found Family Trope Reads
Day 4 – White Stag Review + Decadent Vegan Hot Cocoa Recipe
Day 5 – Book Room Christmas Decor + Favorite Christmas Reads
Day 6 – 12 Favorite Fantasy Books of the Year
Day 7 – A Christmas Playlist to Read To
Day 7 Bonus – Christmas Traditions + Favorite Holiday Reads
Day 8 – Tamales and Books!
Day 9 – Winter Book Review: Wicked Lovely
Day 10 – Derby Pie and Fond Memories
Day 11 – Mistletoe Myths & Stories
Day 12 – A Soul as Cold as Frost Review + Coffee Recipe
Day 12 Bonus – Tea Pairings & Winter-Themed Books
Wrap-Up – All the Stocking Stuffers + Big Giveaway
Bookish Christmas Reading Playlist
What better way to spend the chilly winter days than to  snuggle up with your favorite book, wrapped around in your cozy blanket and with a tea in hand, while the snow falls outside?
It doesn't get much better than that! But the mood wouldn't be complete without a playlist.
That's why I've put together a bookish Christmas reading playlist, just for you!
It's filled with Christmas, winter, and ambiance songs that are perfect for this holiday season.
Happy reading and listening, my lovelies!
Stocking Stuffer
Ho ho ho! Santa is on his way. Here's a free bookish stocking stuffer to go with the bookish Christmas reading playlist! It's a free novella set in my YA Dystopian Deathday Chronicles universe. For more on information on The Deathday Chronicles, click here!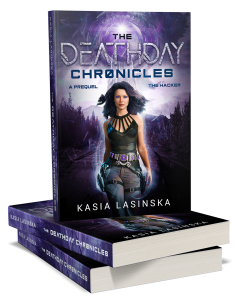 THE HACKER
Everyone has secrets, but mine could get me killed.
I'm Em, and my deathday was yesterday.
At least, that's what the Government thinks.
The digits on my wrist may not have killed me, but they've put a target on my back.
Now, a fugitive in my own city, I need to figure out how I lived past my deathday. And why I was the only one…
It's not just about finding answers. It's about survival.
One thing is certain: I'm out of my depth. Even my hacking skills might not be enough to get me out of this one…
Full of action, intrigue, and a heroine who doesn't take 'no' for an answer, The Hacker is the addictive companion novella to The Deathday Chronicles, the young adult dystopian series that's perfect for fans of The Hunger Games, Divergent and Legend. ★★★★★
What are you waiting for? Scroll down and download The Hacker for FREE now!
"A thrilling premise for a YA dystopia and a ruined world I'd like to spend more time in."
– Derek Murphy

Mega Giveaway
Someone will find a real treat under their tree this year! YA Sci-Fi & Fantasy Addicts is hosting a mega giveaway, where 3 winners could win a total of up to $800 in bookish prizes — including a signed copy of The Countdown (The Deathday Chronicles). Click on the photo below for your chance to enter & win!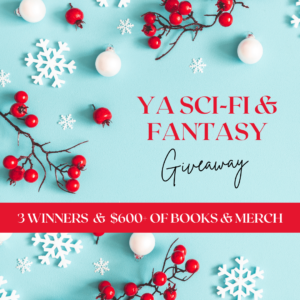 Thanks for reading! Merry Christmas!
Love always ??

P.S. As an Amazon Associate, I earn a small amount from qualifying purchases at no cost to you.
---
You might also like