NEW RELEASE
Love blooms in even the harshest of places…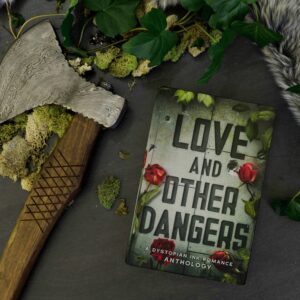 Dystopian Ink put together a fun new sweet romance anthology – a dystopian romance box of chocolates.
Inside LOVE & OTHER DANGERS you'll find sixteen stories with happy endings from published authors and emerging writers alike. If you enjoyed:
The Hunger Games
Matched
Divergent
The Selection
Shatter Me
Red Queen
Then this book is for you!
There is a mix of female lead characters that all fight for and find love in crazy dystopian futures. Each story is full of swoon worthy heroes with lots of witty banter!
I'm so excited that my story THE SUITOR features in the book! What can you expect from THE SUITOR? As it's set in my DEATHDAY CHRONICLES universe, you can expect to see themes from the previous books: deathdays, a corrupt government, class divides… but also: enemies to lovers, fake dating, star-crossed lovers, dance lessons, daggers, and ballrooms…
Some of the other tropes featured in the anthology include: friends to lovers, found family, online dating, artificial intelligence, government breeding, surviving against all odds, swoon-worthy heroes and kickass female leads galore!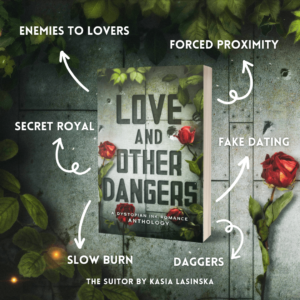 Here's the individual blurb for THE SUITOR:
Savannah
I have a secret I can never share — one that makes me a target within these walls. As a student at the Elite White Tower Academy, I keep my head down and my guard up.
But then he arrived.
Ethan, the new student with eyes that see too much. He's infuriating and insufferable… which coincidentally makes him the perfect mark for my plan.
But try as I might, I can't ignore our growing attraction. Getting close to him would only threaten everything I've worked to protect.
Yet the more real our pretend relationship feels, the more my heart begins to surrender and betray my every intention.
But in this world of lies and danger, who can I truly trust?
Ethan
I have a mission that depends on secrets staying buried. So when I'm transferred to the Elite White Tower Academy, deception is the name of the game.
What I don't count on is her — Savannah, with her quick wit and fiery spirit. The more time we spend together, the more my plans start to unravel.
But when an attack threatens our City's fragile peace, I'm faced with an impossible choice.
Reveal my secrets, or fulfill my destiny.
But the latter means tearing apart the life she's built.
Now the lines are blurred, and one step out of place could cost me everything. It's time I take my destiny into my own hands—but will unburying the past be the deadliest risk of all?
Full of pulse-pounding action, forbidden romance, and high-stakes intrigue, THE SUITOR is a gripping new addition to the YA dystopian series, THE DEATHDAY CHRONICLES, perfect for fans of THE HUNGER GAMES, DIVERGENT, THE SELECTION, AND THE RED QUEEN. ★★★★★
What are you waiting for? Grab LOVE & OTHER DANGERS and start reading now!
  Now available in KU!
Here are some of my favorite quotes from THE SUITOR [click to enlarge]:
---
You might also like